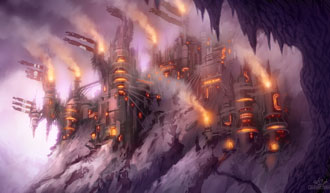 Half buried in the upper reaches of the Skyclaw Mountains, but only reachable after a treck through a series of tunnels, stands a Mysterious looking Fortress. Having an architecture unlike the other ruins in the area, and straddling a vent of hot gas that pushes warmth into the inside of the building in an otherwise freezing cold mountain top, the Fortress almost looks welcoming. That is, until the banners of serpent gods, spears and arrow heads, occasional skull or full skeleton, and large horns are seen. With a quick glance, it seems that this place is in the midst of a power struggle between a group of snakemen (commonly known as Yuan-Ti) and three horned bipedal bulls. If you're going to scavenge for treasure here, be prepared to fight!
Sublocation for Skyclaw Ridge Mountains, level range 8-11
Ad blocker interference detected!
Wikia is a free-to-use site that makes money from advertising. We have a modified experience for viewers using ad blockers

Wikia is not accessible if you've made further modifications. Remove the custom ad blocker rule(s) and the page will load as expected.